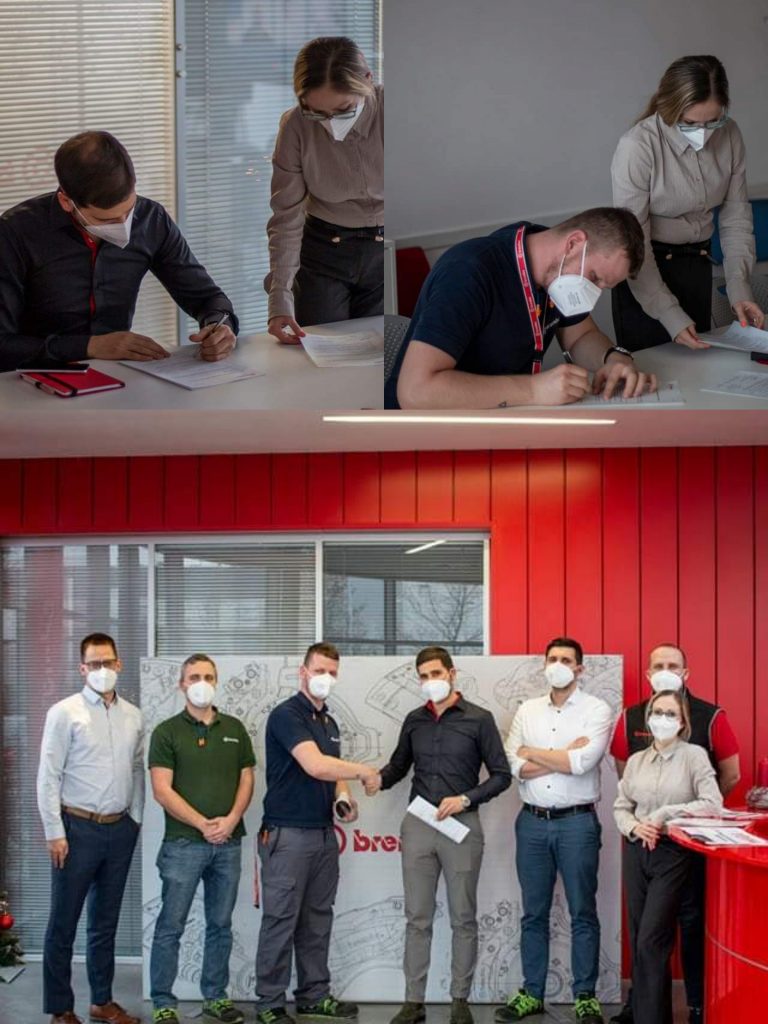 Máme podepsáno!!!
Ano, podepsali jsme důležité dokumenty, které nelze jen tak obejít a jsou závazné pro obě strany, a tím závaznější pro zaměstnavatele. Podpis kolektivní smlouvy nás ještě čeká, jelikož tento dokument je nutné nechat prověřit právníky na obou stranách, ať už ze strany Bremba, tak i ze strany odborů. Ale podepsali jsme dokument, který zavazuje zaměstnavatele Brembo Czech k:
plošnému navýšení mezd o 10kč na hodinu pro dělnické pozice a 4% pro THP pozice pro rok 2022 a to od května. Pro rok 2023 se počítá s dalším navýšením v celkové výši 6%. Celkové navýšení 6% se týká i roku 2022. 2 zbývající procenta do těch 6% májí nadřízení jako manipulační prostor, který mohou využít, pro ty zaměstnance, kteří si navýšení opravdu zaslouží.
roční bonus bude navýšen a to tak, že můžeme dosáhnout částky až 30 000kč (podmínky budou zveřejněny brzo i na těchto stránkách). Samozřejmě, že zásadní podmínka je ta, a to chodit do práce, tzn. že se opět bude jednat o absenci.
zaměstnanci, kteří ve firmě vydrželi 10,20,30 a více let pod kmenem budou odměnění nejen finančně, ale i věcnými dary a to při ceremoniálu, který bude stejného charakteru jako mají kolegové v naší mateřské společnosti. Takže žádné předávání mezi dveřmi, ale opravdu tak jak se patří.
Děkujeme všem, kteří nám zůstali věrní i přesto, že si někteří mysleli, že se nic neděje a my jsme usnuli na vavřínech. Ono, i když si myslíte, že se nic neděje, tak v zákulisí to stále vře. Většinou držíme vše pod pokličkou jen proto, abychom neohrozili jednání tím, že si lidé v podniku budou vymýšlet něco o čem vůbec nejednáme. Kolikrát se i vedení diví, že zaměstnanci ví víc, než oni sami. Navíc jsme jednali se třemi řediteli společnosti, a to není jednoduché, když musíte vždy začít téměř od začátku.
Doufám, že nám budete důvěřovat víc než do teď a budete nás jen podporovat. Někdy se něco nepovede, ale myslím, že na další dva roky máme celkem dobré podmínky a teď vymýšlet co dále 🙂
ještě jednou děkujeme všem
výbor ZO OS KOVO BREMBO Ostrava